Recipe & Image from BojonGourmet.com
DESSERT BOARD IDEAS
Here are some recommended goodies to include for a mix of savory and sweet flavors on your dessert cheese board. I've linked to store-bought favorites as well as some chocolate board-appropriate recipes.
CHOCOLATE
Try a mix of colors (white, milk, dark) and flavors.
CHEESE
Go for something mild yet interesting. I recommend one soft and one semi-firm (or you know, all of the below!)
Soft cheeses:

brie
camembert or triple cream (local favorite: Mt. Tam)

Semi-firm cheeses:
CRACKERS AND/OR COOKIES
Store-bought gluten-free favorites:
Homemade:
NUTS
Something salty and crunchy to offset all that sweet, creamy chocolate.
marcona almonds
roasted salted pistachios
candied pecans or walnuts
salted mixed nuts
FRUIT
Work with what's in season.
Dried:
Fresh:

sliced apples, pears, or asian pears
persimmons
pomegranate
figs
grapes
strawberries
oranges or tangerines
OTHER OPTIONAL GOODIES:
HOW TO MAKE A DESSERT CHARCUTERIE BOARD
Gather and prep your ingredients. Slice fruit (brush apple/pear slices with a little lemon juice to keep from oxidizing). Slice cheese. Break up chocolate bars.
Arrange ingredients on a board or platter. Start with the largest components (small bowls, large cheeses). Fan out fruit and cheese slices, crackers, and cookies for visual appeal and easy grabbing. Fill in the gaps with smaller components: chocolates, nuts, dried fruit.
Add accoutrements. Small knives or spoons for serving, small plates and napkins for you and your dessert buddies. Glasses for drinks.
Pour beverages (some options below!)
Enjoy devouring your delicious dessert cheese board!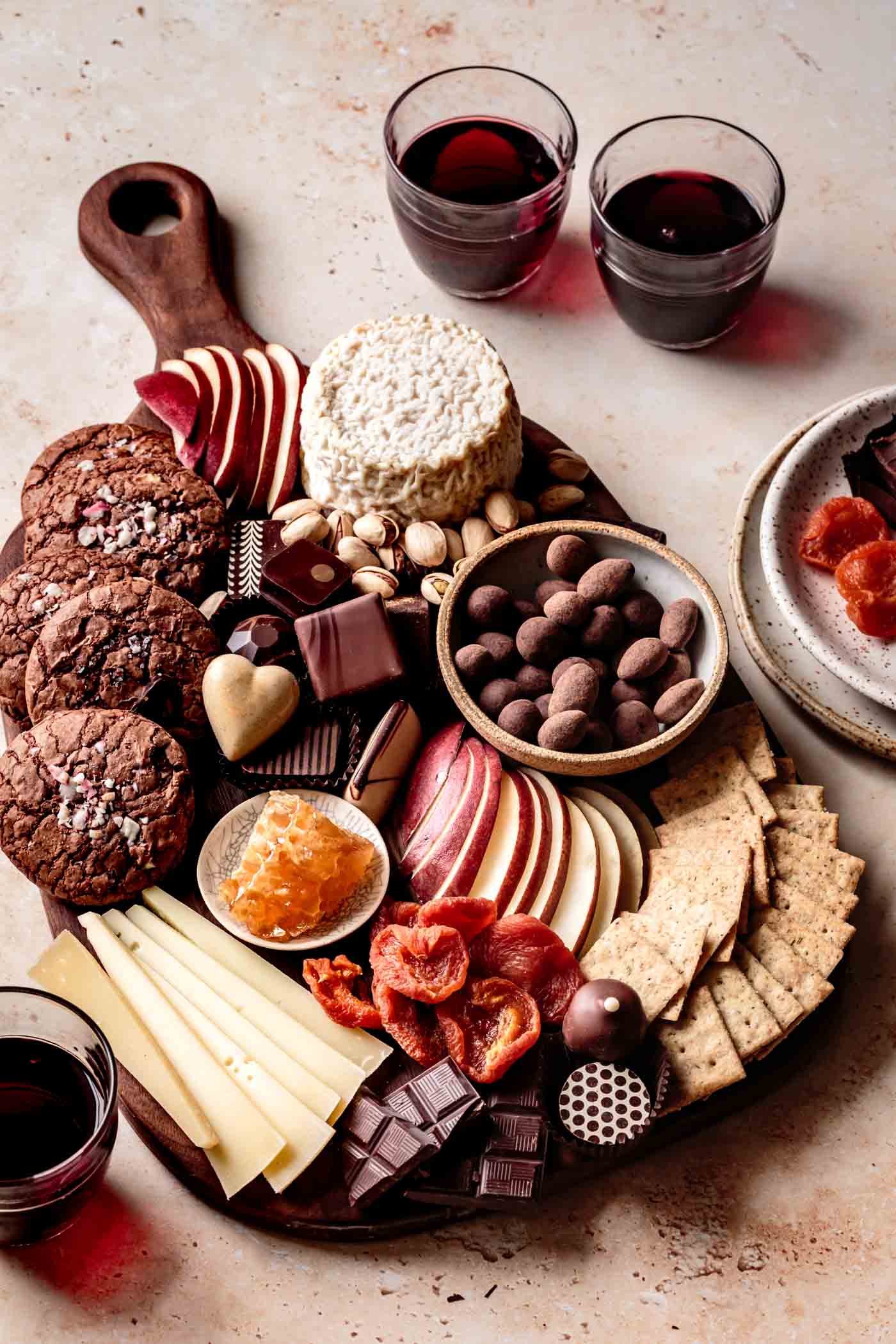 CHOCOLATE AND WINE PAIRING + OTHER LIBATIONS
I just love dark chocolate with red wine. Jay and I enjoyed glasses of Imagery Cabernet Sauvignon with this chocolate board. It was perfectly pitched against bittersweet chocolate, aged cheeses, crispy crackers, and roasted pistachios.
Other drinks you might serve:
champagne or sparkling wine
rosé or sparkling rosé
good whiskey or bourbon
coffee or tea